The farming simulation genre has always been a very niche genre, with Harvest Moon being the king of the hill. It looks as though its reign at the top has come to an end with the arrival of Story of Seasons.  The latest Harvest Moon title, Harvest Moon: The Lost Valley, was a bit of a letdown in our eyes, but Story of Seasons feels much more like the farming simulation experience that fans of the Harvest Moon franchise has grown to love. With a wide variety of things to do, and simplified, efficient controls, Story of Seasons is one of the best farming sim experiences out there.
One day while sorting through your mail, you find a pamphlet for a place called Oak Tree Town looking for new farmers to help the town expand and connect with other communities. Deciding you have had enough of the city life, you pack your bags and head to Oak Tree Town to live off the land and start a new life in the countryside. After a week of training from the experienced resident farmer, Eda, you're off on your own to prove yourself.
For those of you who are familiar with Harvest Moon: A New Beginning, you'll feel right at home when playing Story of Seasons. You'll notice immediately that the visuals such as character avatars and the environments are much like A New Beginning. Oak Tree Town is full of colorful buildings and decorations, and the forestry has several contrasting shades of green that really stand out. There are four different melodies you'll hear throughout the game, each of the seasons having their own theme. Each theme has a different mood; for example the summer theme is really upbeat with a ukulele type sound, while the winter theme has a more mellow and relaxing sound.
Oak Tree Town is full of up and coming farmers, and there is plenty of competition for you to keep up with. Not only will you face off in monthly festivals, but you'll also be in competition for public fields as well. These public fields are rented from the guild and can be used to grow various types of crops such as spices, flowers, and mushrooms. Other farmers will also try to snatch up as many public fields as they can, which will result in competing for the fields in a challenge. There are two challenges to choose from, the first being whoever ships the most on the day following the challenge announcement takes the field. The second option is whoever ranks highest in the next festival contest takes the field. You can either put these fields to good use, or be a bit strategic and hoard the fields to prevent your competition from making money.
To help give you a little boost against your fellow farming community, the harvesting system has been improved to be much more efficient. Tilling land, planting seeds, watering crops, and even harvesting are all done in 3×3 squares at a time by simply holding the A button for a brief moment. All your everyday farming tools and items are easily accessed by pressing the R button, and the rucksack is also conveniently reached by an icon on the right side of the touchscreen.
When we say there is a wide variety of things to do in Story of Seasons, it's really an understatement. In games like these there are all types of different players, and that was definitely taken into account when Story of Seasons was created. For the players that like to focus on scavenging and fishing there are plenty of opportunities to make a living. There are three ways to fish: the traditional way with a rod, by planting a fishing hatchery, or by being a true outdoorsman and barehand catching while swimming along the river. There are several types of flowers to pick, nuts and honey combs to collect, and many species of bugs to catch. For the farmers who focus on harvesting crops and raising livestock there are also many options for you. As mentioned before there are several different fields to experiment with and grow various types of crops. There are also many different animals to raise, whether it's livestock, poultry, or even befriending the local wildlife. For the players that enjoy the relationship building aspect, there are plenty of eligible bachelors and bachelorettes with varying personalities and hobbies waiting for you to court them. For the players who love expanding their farm and customizing, you'll be happy to hear that the blueprint system that was featured in A New Beginning has returned. There are many different blueprints for interior decorating and expanding your home, as well as decorations for Oak Tree Town.
One of the most intriguing features of Story of Seasons is the trade depot. The trade depot is essentially a marketplace where surrounding communities and countries will travel to and exchange goods. Oak Tree town relies on you to sell your goods to these other communities and build business relationships with them by completing requests. You can only ship your items during days when a country is visiting the trade depot, so at first your inventory may feel a little jam-packed. As you progress through the seasons, ship items, and complete requests, more and more communities will travel to the trade depot and visits will become more frequent.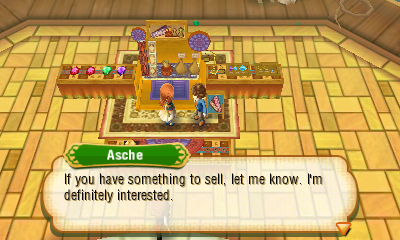 When in comes to the farming simulation experience, Story of Seasons is truly the full package. For the players who were left unsatisfied with Harvest Moon: The Lost Valley's out of the box approach, and are looking for a game that brings back the things that make this niche genre so addictive, Story of Seasons is the game for you.
Review copy of Story of Seasons was provided by XSEED Games